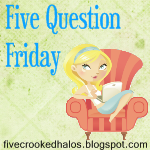 Welcome to Five Question Friday! An easy, peasy way to start off your weekend...and a fun way to get to know random facts about your fellow bloggers!
Rules for 5
QF
: Copy and paste the following questions to your blog post, answer them, then watch for the
linky
to appear Friday morning! Oh, and HAVE FUN!!
1.
What movie could you watch over and over again and not get tired of?
The Man From Snowy River and Top Gun
2.
What's your biggest pet peeve right now?
People not taking responsibility for their actions and blaming other people
3.
If you had to describe your best friend in five words or less, what would you say?
4. I
f you did not have to worry about money or go to school what would you do for a living?
I'm doing it, being a stay at home mom!
5. What is your one "splurge" item, that you will always buy, no matter the cos
t?

New DVD's especially tv show box sets like Friends or the Golden girls.